From early age on I grew up with cats. As a small girl I had a special friendship with a wild farm cat, who trusted no person but me. She had not been sterilized and every time she had kittens, she took me to her litter, so I could help looking after them. I work with great enthusiasm to gain the trust of cats. It is a fantastic feeling to accomplish this with much love and patience (and food!). It keeps being amazing to get a bond with a new cat that comes to our cattery.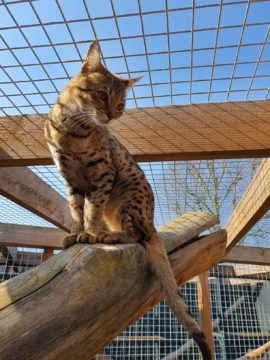 I have two young children. The cats are part of our lives. They live with us in our house, but we have also have cat spaces right next to the living room, including outside areas.
Several years ago I followed my heart and started this Savannah cattery! I also work parttime at the office but have the flexibility to go to the cats when it is needed. Breeding Savannahs is a big challenge, but a rewarding hobby too!